ARZA Canada:
Strengthening ties of Reform Jews to Israel
ARZA Canada:
Strengthening ties of Reform Jews to Israel
ARZA Canada:
Strengthening ties of Reform Jews to Israel
ARZA Canada is an affiliate of the Union for Reform Judaism and its Canadian Council.
We are a member organization of ARZENU, the International Association of Reform Zionists, and the Canadian Zionist Federation. With over 8,400 members, our mandate is to connect with Reform communities throughout Canada, foster connections with and strengthen our ties to the Reform Movement in Israel, and work to realize the vision of Reform Zionism.
Rabbi Kariv speaks passionately about the Reform Movement in Israel.

Posted by ARZA Canada on Thursday, November 12, 2015
Watch Rabbi Gilad Kariv, former Executive Director of the Israel Movement for Progressive and Reform Judaism, speak passionately about Reform Judaism in Israel.
Shalom Chaverim,
The Israeli Reform Movement's Domim-Alike program twins congregations in Israel with those in the Diaspora.  Canada has many twinning programs with Israeli synagogues.  
Here's an example of why it's so meaningful for both sides.
Kehilat Darchei Noam of Ramat HaSharon, an Israeli Reform congregation, spent many frustrating years trying to secure land to build a synagogue, because the municipality only provided land to the Orthodox.  Fortunately for Darchei Noam, they have a partner — Solel Congregation of Mississauga, Ontario.  Solel's fundraising drives helped with the cost of rental space, programming, and eventually a building fund.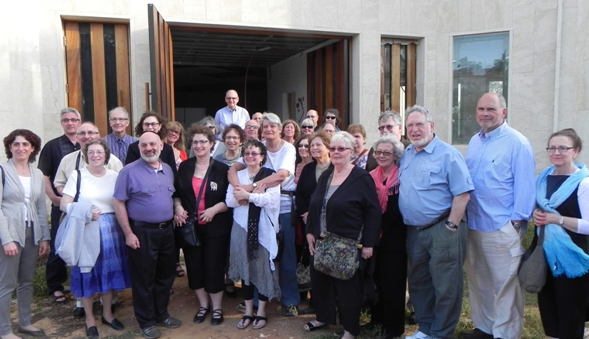 Solel and Darchei Noam members together in Israel
Solel also gained from this partnership.  On Solel trips to Israel, members are treated as family and have had wonderful times eating, singing and dancing as the guests of Darchei Noam.  Darchei Noam has connected Solel with interesting projects and resources in Israel.  A Solel student lived with a Darchei Noam family during his year at university in Tel Aviv.
One of the main benefits is the bonds that are created between members of the two synagogues, including close friendships between Canadian and Israeli families.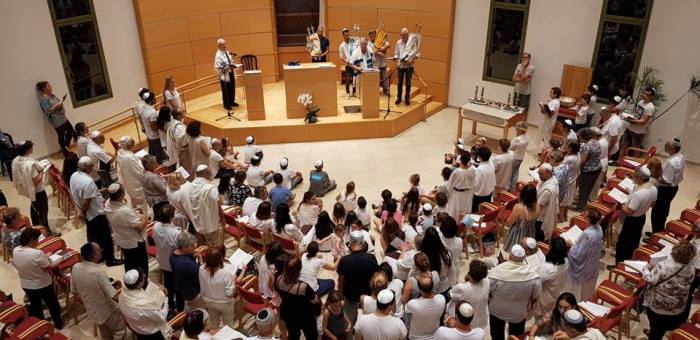 Kehilat Darchei Noam in Ramat HaSharon
And, the persistence of Darchei Noam paid off.  They now have a beautiful new building, with a lemon tree out front dedicated to Solel Congregation of Mississauga.
Sincerely,
Lee Weisser
President, ARZA Canada
 —————————————————————————————————-

---
---
 May 16, 2021
As the leaders representing the Reform Jewish Community of Canada, we stand together as one people with our siblings in Israel and call for an end to violence from Gaza and civil unrest in the streets of Israeli cities. We pray that all of the people of the land will turn their swords into plowshares and find a way to live together in peace and dignity. We call for dialogue not destruction, peace not violence, empathy not enmity.
We wholeheartedly support Israel in its right to defend itself from terror. We mourn with the families that have suffered loss of life. We send our prayers for recovery to those who have been injured. We send compassion to all of the children, Jewish and Palestinian, who are scared of the loud noises of rockets, bombs and sirens and who have to spend days and nights seeking shelter.
Our position is bolstered by the resolve and resilience of our colleagues in Israel who speak with moderation and compassion. The Reform Movement in Israel is urging those they work alongside in their shared society programs to reach out to one another, and to restore friendship and understanding.
A joint statement of mayors from Jewish and Arab towns is encouraging an end to violence and mob rule in the streets. Demonstrations of friendship are taking place across the country where Jews and Arabs are coming together to say, "Enough violence. Let's work together for co-existence."
We stand with the people of Israel and call for moral leadership on all sides, for respect for human life, and for dignity.
We know that Israelis are resilient. We also know that they need our messages of solidarity and support. To paraphrase the 12th century Jewish sage Yehuda Halevi, "though we are in the west, at this very moment in particular our heart is in the east."
Am Yisrael Chai
Len Bates Lee Weisser Rabbi Dan Moskovitz
President President Chair, Reform Rabbis of Canada
RJCC ARZA Canada Rabbi, Temple Sholom, Vancouver,
There are no upcoming events at this time.
ARZA CANADA PRIVACY POLICY
The Privacy Commission of Canada states the following:
Non-profit organizations are not subject to the Personal Information Protection and Electronic Documents Act (PIPEDA) when they do not engage in commercial activities.
The following activities are not considered commercial and are not subject to PIPEDA:
– collecting membership fees
– compiling a list of members' names and addresses/email addresses
– mailing out newsletters
As you know, ARZA Canada represents Canadian Reform Zionists with members in all of Canada's Reform congregations. Though independent of the sister organization, ARZA, in the United States, it is an affiliate of the Union for Reform Judaism (URJ) and Reform Jewish Community of Canada (RJCC). We are writing to address how ARZA Canada maintains its membership records, and in particular its commitment to the privacy of our members.
Accurate membership records are important to the entire Reform Jewish Community of Canada given that the size of our membership determines our influence on Zionist policies in Canada and in Israel. ARZA Canada members come through congregational solicitation and activism, and so annually it is provided lists of its members from Canadian Reform congregations such as yours in order to confirm individual memberships. This is deeply appreciated.
ARZA Canada has strong privacy practices to ensure the confidentiality of this membership information. It is used by ARZA Canada to communicate with our members and engage them in the activities of ARZA Canada, including joint programs with RJCC and our congregations.
For more please click here.
Len Bates
Liaison to Reform Jewish Community of Canada